PARADE CONTINGENT INSTRUCTIONS
Sponsors please review these instructions in their entirety.
We recommend that you share these instructions with everyone who will be participating in your contingent in the Parade. Confirmation packets with your contingent number and line-up location, as well as more detailed instructions will be emailed to the Contact Person listed on this form in mid-June.
Parade Route Map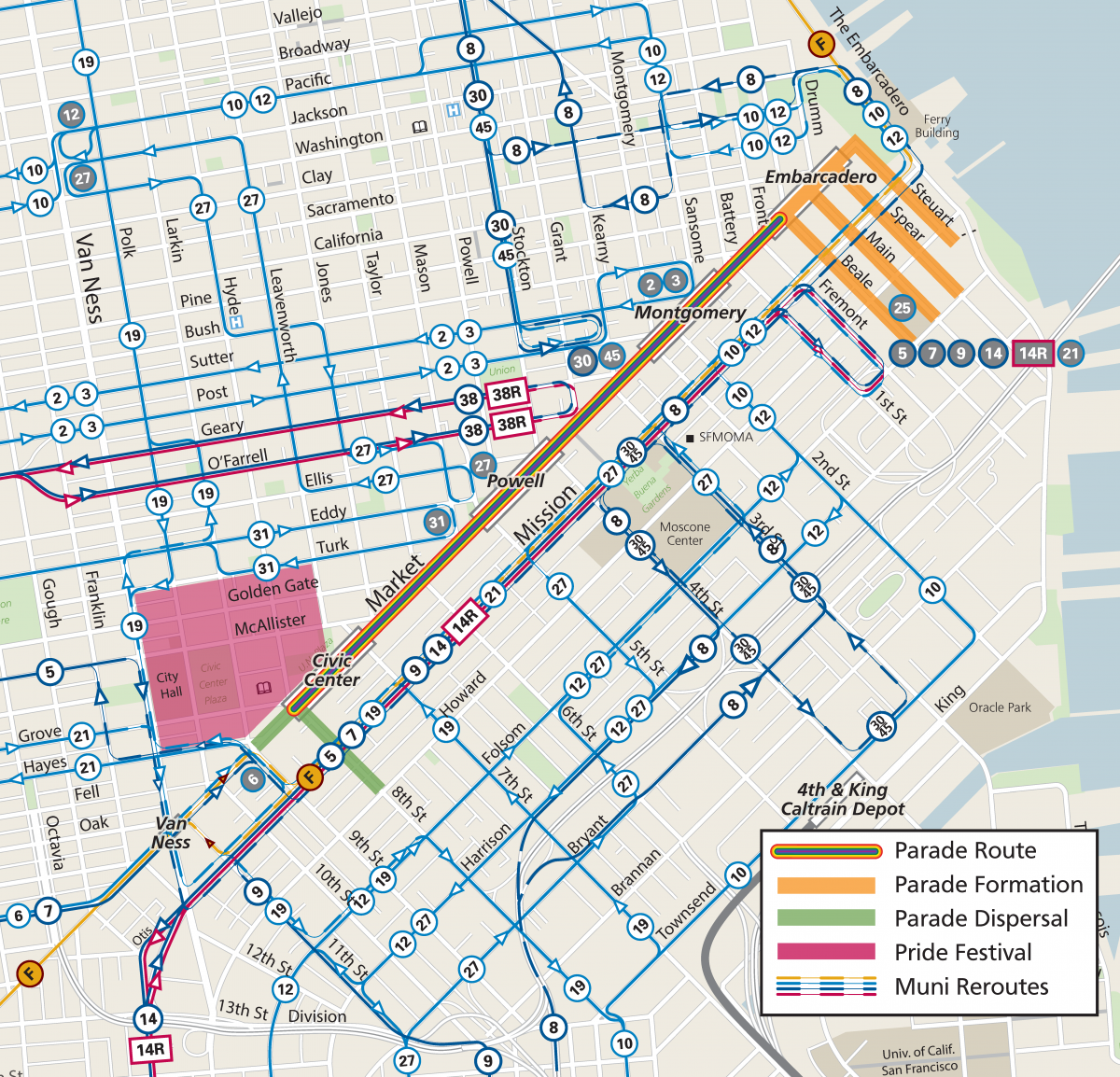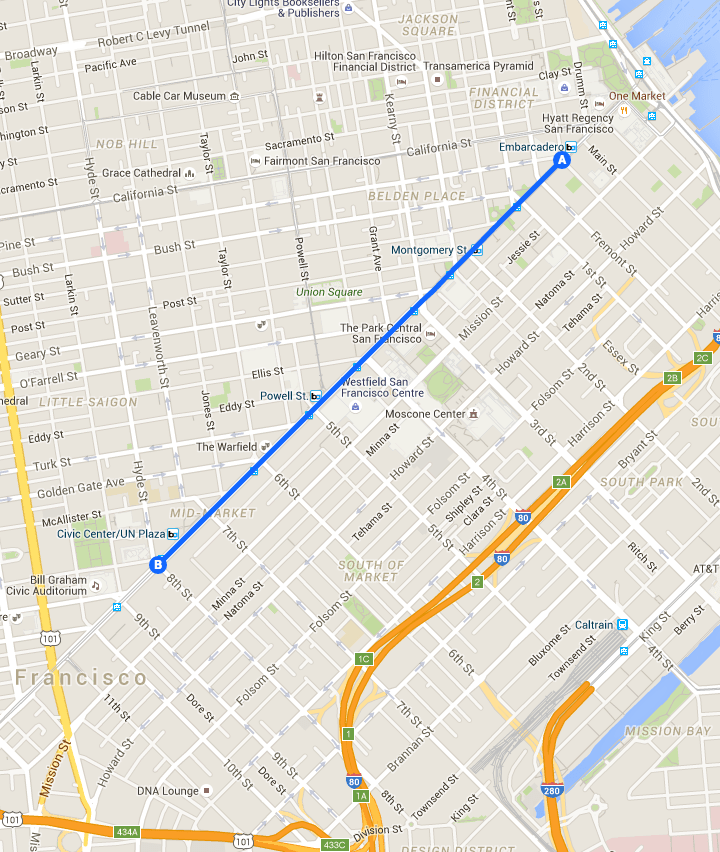 ASSEMBLY
The assembly area is located between Beale and Steuart, Market and Folsom. Please organize your marchers on the sidewalks. Keep the center of the street clear at all times! Your confirmation packet will contain your specific assembly area assignment.
ASSEMBLY START TIMES
These times are approximate until finalized closer to June.
Your Section Number, location, and placement times have been provided with your confirmation packet by email.
| Section | Location | Vehicles must be in place by | Contingent should be in place by | Approximate step-off time onto market st. |
| --- | --- | --- | --- | --- |
| A & B | Market between Freemont & Steuart | 8:30 AM | 9:30 AM | 10:30 AM - 10:40 AM |
| C & D | Market between Fremont & Steuart | 8:30 AM | 9:30 AM | 10:40 AM – 10:50 AM |
| E | Steuart between Market & Mission | 9:00 AM | 9:30 AM | 10:40 AM – 10:50 AM |
| F | Justin Hermann Plaza | 9:00 AM | 9:45 AM | 10:50 AM – 11:35 AM |
| G 1 & 2 | Steuart between Mission & Howard | 9:00 AM | 10:00 AM | 10:50 AM – 11:35 AM |
| H 1 | Steuart between Howard & Folsom | 9:00 AM | 10:15 AM | 10:50 AM – 11:35 AM |
| J 1 & 2 | Spear between Market & Mission | 9:30 AM | 11:00 AM | 11:35 AM – 12:35 PM |
| K 1 & 2 | Spear between Mission & Howard | 9:30 AM | 11:00 AM | 11:35 AM – 12:35 PM |
| L 1 & 2 | Spear between Howard & Folsom | 9:30 AM | 11:00 AM | 11:35 AM – 12:35 PM |
| M 1 & 2 | Main between Market & Mission | 9:30 AM | 12:00 Noon | 12:35 PM – 1:35 PM |
| N 1 & 2 | Main between Mission & Howard | 9:30 AM | 12:00 Noon | 12:35 PM – 1:35 PM |
| P 2 | Main between Howard & Folsom | 9:30 AM | 12:00 Noon | 12:35 PM – 1:35 PM |
| Q 1 & 2 | Beale between Market & Mission | 9:30 AM | 12:30 PM | 1:35 PM – 2:35 PM |
| R 1 & 2 | Beale between Mission & Howard | 9:30 AM | 12:30 PM | 1:35 PM – 2:35 PM |
PARADE COMMAND CENTER – 77 Beale Street; east side of the street between Market and Mission.
GETTING TO THE ASSEMBLY AREA
We recommend public transportation to get to the Assembly Area. The assembly area is easily accessible by MUNI or BART, using the Embarcadero Station and the south of Market exits. Driving anywhere near the Parade Assembly area or Celebration Site is extremely difficult. Parking is not permitted in the assembly area and will be restricted elsewhere.
NO SOUND/MUSIC IN THE ASSEMBLY AREA
With all the residences in the area, as well as the need for Parade staff to communicate instructions, please make your sound checks minimal and soft, and keep music turned off until you are entering the Parade route.
ACCESSIBILITY WAITING AREA
Accessibility seating will be provided in front of 77 Beale Street for those who cannot stand for long times while waiting for the parade to start. As your contingent marches by, you can make your way to Market Street and join in, however, if you are riding in a vehicle, we recommend you stay with your vehicle in the Assembly Area.
PORTABLE TOILETS
Portable toilets are located at the northern end of each block throughout the Assembly Area. Additional portable toilets are located at the Command Center at 77 Beale Street. Please do not portable toilets as changing rooms. Staff and Volunteers should be given priority to the front of the line to allow them to get back to work quickly.
PARADE FLOW AND DELAYS
Contingents will enter the Parade route in order: Block A followed by Block B and so on. We strive to keep the flow of the parade moving; however, delays are sometimes unavoidable. Not everyone in your contingent needs to be in position early. Only one person needs to in position to secure your spot.
PARADE ROUTE
The parade will kick off at 10:30 AM sharp with the Dykes on Bikes/Women's Motorcycle Contingent. The rest of the Parade will follow west on Market Street, from Spear and Beale Streets, and proceed to the end of the Parade, at Market and 8th. The Parade will turn south (left) on 8th Street. Maps will be with your packet.
PARADE DISPERSAL
The Parade ends on Market Street at the intersection of 8th Street.
MARCHERS: Proceed straight ahead on Market Street to 9th Street to get to the Celebration site.
VEHICLES and RIDING PASSENGERS
ALL amplified sound must be turned OFF.
All vehicles turn left onto 8th Street and proceed south to Mission Street.
Follow instructions of staff and volunteers before stopping to disembark any riders.
Once your riders have disembarked, we recommend traveling as far south as you can on 8th Street to avoid traffic congestion.
VEHICLE REQUIREMENTS
A licensed driver must operate all vehicles.
The vehicle registration, insurance card, and rental agreement (if applicable) should be available for inspection.
The driver will need to show a valid driver's license and proof of insurance.
Vehicles with less than a tank of fuel will not be permitted in the Assembly area.
When moving, the wheel monitors MUST be in position.
Speed shall not exceed 5 MPH, unless directed by Parade, Safety, Medical, or the police.
NO STUNT DRIVING, and no figure eights or looping!
Please do not allow a gap more than ONE CAR LENGTH form in front and behind you.
Motorized Floats
| Maximum Dimensions of Vehicles |   |
| --- | --- |
| Height: | 12 Feet (to clear MUNI Wires) |
| Length: | 40 feet |
| Width: | 100 Inches (including rails) |
| Street Clearance: | 12 inches above ground (to clear MUNI islands) |
MANDATORY TRAINING – EVERYONE
Everyone in your contingent is required to review the SF Pride Contingent Video Training Materials prior to participating in the parade. Contingent Video Training Materials will be provided to your primary point of contact and it is your responsibility to distribute these materials to your participants and ensure they have reviewed them.
WHEEL MONITORS
If you plan to have a vehicle or a float in the Parade you must have the following wheel monitors identified:
Basic vehicles (cars and pick-up trucks) with two axles:
You must have two (2) people identified as wheel monitors.
Floats, large trucks, oversized vehicles (including motorized cable cars, trolleys, buses), and vehicles with more than two axles: Two people per axle must be identified as wheel monitors.
Parade Staff will provide training of wheel monitors at your staging area on the morning of the Parade. If you need clarification on the vehicle monitor requirements please email parade@sfpride.org for clarification.
AVOID GAPS IN THE PARADE
If you are aware of a gap developing between you and the contingent ahead of you, try picking up your pace to the extent that safety permits. There are "Gap Monitors" positioned on the Parade Route, please comply with their directions.
MANEUVERS AND PERFORMANCES
The ONLY place you can stop (maximum 1 minute) is at the grandstands, with preapproval from our Parade Manager.
"Moving" choreography should be repeated every 30 seconds for maximum enjoyment by the crowd.
NEVER stop to perform, or perform for more than 30 seconds, unless the parade has halted for a natural reason.
DO NOT STOP to perform at the broadcast cameras or any other cameras along the route. Perform your 30-second moving routine.
RESTRICTIONS
MAXIMUM NUMBER OF MARCHERS: 1,500.

You can have no more than 1,500 people marching with your contingent.

DO NOT STOP to perform at the broadcast cameras, or any other cameras along the route. You can perform your 30-second moving routine.
Alcohol or mind-altering substances cannot be consumed or distributed in the Parade.
Metallic Mylar balloons, Mylar confetti, and high-flying Mylar streamers are prohibited along the Parade route because of MUNI overhead wires. Mylar sheeting on your float is fine. Some companies do make plastic Mylar that looks metallic. Please check when ordering!
Electioneering for candidates, legislation, or ballot initiatives is prohibited.
Nothing may be thrown into the crowd. Your contingent (except for wheel monitors, who never leave their wheels) can hand out items to the crowd.
Please do not hand out stickers with heavy or permanent glue backings, nor place them on public property, including buildings, poles, rails, or MUNI booths. The city will charges for their removal and this has a negative impact on our donations back to the community.